Universel design - Accessibility
---
Beverøya Camping is proud to participate in the project   «Inclusive tourism in Telemark». This is a business network project to gain knowledge about accommodation for people with disabilities. We want as many people as possible to have a pleasant and safe experience when you visit and create memories on Beverøya.
Read more about the project at Visit Bø.
Here is an overview of our facilities:
Disabled toilet and shower room
Barrier free access to reception/shop and disabled toilet handicaptoalett
Allergy-friendly cabins
Open areas
Asphalted parts of the area, and otherwise good gravel cover
Well signposted in the area
Good lighting in large parts of the area
Interactive dance arch and interactive ball wall
Barrier-free access to the beach
Sunflower badge
We at Beverøya are proud to support  Sunflower badge. Not all disabilities are visible - some are invisible.
The sunflower badge is a discreet way of showing those around you that you have an invisible disability and may need extra assistance, help or simply a little extra time. If you wear this badge/ribbon, the employees can more easily ask you if you want help and possibly how they can help you. The sunflower brand is for both adults and children.
Advantages of using the Sunflower Band can be:
The sunflower brand makes you visible.
Those around you may ask you how they can help you.
First in the queue at reception and shop.
---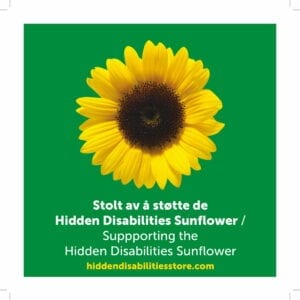 If you think you need a sunflower band/badge, contact reception when you arrive.
Mer fra Visit Bø og Midt-Telemark regionen